Douglas Adams' Biography

Douglas Noël Adams 1952 - 2001
 Encouraged when he was ten years old by a 10 out of 10 for one of his texts, a note given by
Frank Halford
a professor well known for being parsimonious with good grades and compliments, Douglas publishes his first short stories aged only 12. He already starts to adopt a comical style for his writing.
Very early on he also discovers that he loves acting, although by the same occasion he learns that there are some parts which he shall never be able to play due to his great height (he was over 6 foot five inch!): "I always had a great deal of trouble playing dwarves," he would later say (in fact that was only part of the problem because he had also the strange habit to fall and laugh a lot on stage mainly when he was not supposed to).
Before starting his university studying English Literature at Cambridge in october 71, Douglas took a year off, adn went through a bout of odd jobs which would later help his editors to write up the short biographies found inside the liner notes of his novels: he was porter in the X-Ray department of the Yeovil General hospital (Somerset), chicken sheds cleaner, ... then he left England to hitchhike round Europe. He went to Austria, Italy, Yugoslavia and Turkey. It is during this trip, in Austria, more precisely lying in a field in Innsbruck, that Douglas says he had, for the first time, the idea for an Hitchhiker's Guide to the Galaxy.
Once at Cambridge he tried to join the Footlights, the undergraduate comedy society that would launch the careers of the greatest British actors and comedians (Monty Python for example). Being fed up with Footlights' internal struggles and the snobbism, and also kept out of the stage by his habit laughing on stage, he decides to distance himself from the troupe to put on his own shows. Douglas meets a certain success, especially in the trio Adams-Smith-Adams.
At 22 years old, DNA meets Monty Python's Graham Chapman. They try work together for 18 months, but their cooperation is a painful defeat. Almost none of their projects are completed. Nevertheless, from this union Douglas gets closer to the Monty Python mob, especially with Terry Jones. He participates as an extra for the famous "Monty Python's Flying Circus" last series. His roles will even earn him the title of "fifth Monty Python", a name given by some American editors and fans... when they still had no knowledge of Terry Gilliam's involvement in the show! So much for their infamous sense of patriotism!
The 24-years-old Douglas Adams continues to scrawl a few texts for the radio, but he has a feeling that he is wasting his life away. « 1976 was my worst year », he would say later.It is then that he starts to write up the "Hitch-Hiker's Guide To The Galaxy" script. In acknowledgement of some previous work at the BBC (the famous Kamikaze sketch for The Burkiss Way show), and with Simon Brett and Geoffrey Perkins support, the powers-that-be choose to give him his chance... but without really believing in the potential success of sci-fi comedy.
The first episode is broadcast on Wednesday the 8th of April 1978 at 10:30 PM. Despite absolute lack of advertising, the first two episodes gain an honourable audience share. At the end of the first 6 episodes though, the Hitchhiker's Guide had already acquired its cult status. Douglas was already being approached by a few publishers and record companies in order to licence the rights to the show.
Douglas Adams is therefore offered a job as producer on BBC Radio 4, but quickly gets bored. Six months later, he finds himself on television as script director for the cult science fiction series "Dr. Who". He keeps the job for 2 years.
Meanwhile, the "Hitch-Hiker's Guide to the galaxy" novel is edited by Pan Books in October 1979. The day following its release, it takes the top spot of bestseller lists. In three months 250 000 copies are sold. The second radio series quickly becomes indispensable, and it sees the day in January 1980.
The Hitchhiker's Guide was a pioneer in terms of derivative products. Two records that took back the radio series' main intrigue came out very quickly after the broadcast. They were closely followed by two singles of disco music interpreted by Marvin the paranoid android! Three plays were staged in two years, two of which were great successes whilst the third was an astounding failure. The television series would be close to follow (1981), as well as three other novels: "The Restaurant At The End Of The Universe" (1980), "Life, The Universe And Everything" (1982) and "So Long And Thanks For All The Fish" (1984). The fifth novel of the series, "Mostly Harmless" will only be published in 1992. These were all accompanied by a text adventure computer game published by Infocom (1984), a towel (1985), a computer illustrated book (1994) and some comic book adaptations of the first three books of the series (1993).
The Hitchhiker's audience quickly surpassed the British borders. It met with success in a number of other countries, but especially in the United States. To this day an estimated 15 million copies of the Hitchhiker's Guide novels have been sold in Anglo-Saxon countries.
First and foremost an author, Douglas Adams also published other novels that have no link to the Galactic Guide series. There are of course the Dirk Gently novels "Dirk Gently's Holistic Agency" (1987) and "The Long Dark Tea Time Of The Soul" (1988) which are lively mixes of film-noir ambiance, supernatural events, horror without forgetting the absurd and comical aspects of course!
There was also the strange "Meaning of Liff", co-written with John Lloyd, a sort of dictionary of inexistent words that were to come to life after publication! The last non-Hitchhiker's novel that Douglas Adams wrote was "Last Chance To See" (1990), a book about his travels around the world following the tracks of highly endangered and almost extinct species. The Times described it as being an extremely intelligent read of highflying writing. It is probably DNA's most deeply moving work as he evokes the sorry plight of some of Earth's most fascinating creatures.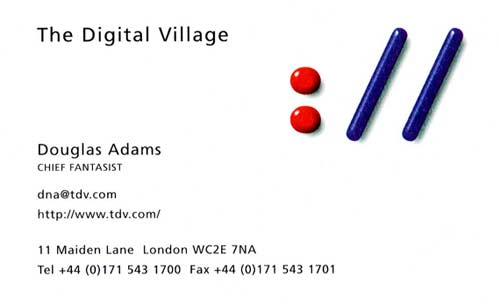 Since then... nothing. There had been an announced novel called "Salmon Of Doubt" which would have been a part of the Dirk Gently series, the Hitchhikers, then a whole new book, but until his death Douglas Adams only made vague and contradictory remarks about it ("Salmon Of Doubt" was eventually published in May 2002, exactly one year after Douglas Adams's death, including an unfinished third Dirk Gently novel, some essays and articles ).

Why did DNA write so few novels? More than anything, he suffered from some kind of blank page syndrome. He approached writing as a form of torture; especially since he never considered himself to be a major author... he never did understand why publishers paid him such large advances for his work! He got 2,27 millions $ in advance for the US rights of the two Dirk Gently books before he had actually wrote a line... Even with such incentives though, Douglas was in pain to do the work and his editors would have to lock him up in a hotel room or even send him an emissary to make sure he would get the work done!

When he was not writing, Douglas Adams still kept himself busy nonetheless. With his dotcom company Digital Village, co-founded with Robbie Stamp in 1996, he made a computer game called "Starship Titanic" (1998) which was later adapted into novel form by Terry Jones from the Monty Pythons, and created h2g2.com, the real Hitchhiker's guide on Internet. He also went around the world attending a huge number of conferences so as to defend his advanced conceptions about sciences, technology and the Internet. He also created a radio series for the BBC called "The Hitch-Hiker's Guide To The Future". He used it to draw light upon themes like interactive television, technology excesses, the future of music faced with the MP3 format and « E books versus paper ».

Douglas Adams was also a great fan of music. He is known for writing "The Restaurant At The End Of The Universe" whilst listening to Paul Simon's "One Trick Pony" in loop. He owned about 30 left-handed guitars. His close friend David Gilmour of Pink Floyd offered him a great 42nd birthday present: he was invited on stage at Earl's Court in London to interpret two tracks from the mythical "Dark Side Of The Moon" with the band! Douglas Adams is also the one who chose the name "Division Bell" as the humongous band's final recording effort.

As the millennium was approaching its end, Douglas Adams moved to Santa Barbara in California in the hope of making the « Hitch-Hiker's Guide The Galaxy » Movie a reality. Disney took holds of the production and jay "Austin Power" Roach was announced director...

Whilst the project was accumulating delays, the film was nevertheless moving forward when Douglas Noël Adams suddenly died on Friday the 11th of June 2001. He left behind a wife, Jane Belson and a six years-old daughter Polly.


If you want to know the whole story, you can check these two biographies :

- "Hitchhiker: A Biography of Douglas Adams", MJ Simpson, Hodder & Stoughton Ltd, 2003
- "Wish You Were Here: The Official Biography of Douglas Adams", Nick Webb, Headline, 2004

And also :

- "Don't Panic: Douglas Adams & The Hitchhiker's Guide to the Galaxy", Neil Gaiman, Titan Books Ltd (the fourth version of this book is going to be published the 25th September 2009)
- "The Pocket Essential Hitchhiker's Guide (Pocket essentials: TV)", MJ Simpson, Pocket Essentials (last edition : 2005)