>
Sub-Etha Network
Dear Hoppy Froods
WELCOME TO THIS HUGE WEBSITE!
"Life, DNA & H2G2" (aka douglasadams.eu) is the merger of all my previous Douglas Adams and H2G2 related websites (Douglas Adams : A renaissance man / H2G2movie / H2G2 radio series).
I'm a huge Douglas Adams' fan for now more than twenty years.
I first discovered the Hitchhiker's Guide books when I was a teenager. I adapted the Hitchhiker's guide to the galaxy radio series in french in 1995. And was lucky enough to be a guest during the shooting of the movie, and the recording of the new radio series.
I launched my first webstite (in french) about Douglas Adams and H2G2 in 2001, a few days after Douglas' death. Two years later, I launched H2G2movie.com, the first unofficial website about the Hitchhiker's movie (this time in english). Several websites followed but I merged them in this one website. Now I've introduced a new design and added yet some content.
The last addition is an
Ultimate Douglas Adams & H2G2 Portal
with links to websites, videos, articles and interviews. Please feel free to propose your own links.
So Long, and Thanks for all the Fish,
Nicolas Botti (march 2010)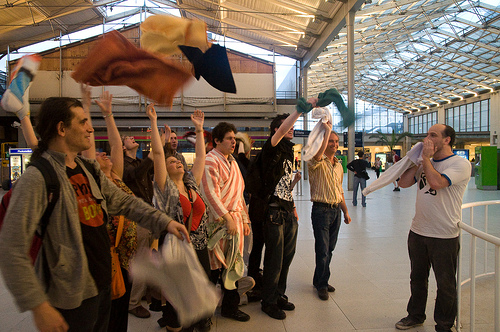 Towel Day - in Paris, 2009 | Picture by Hugues